February 5, 2012
80's Purple Giveaway!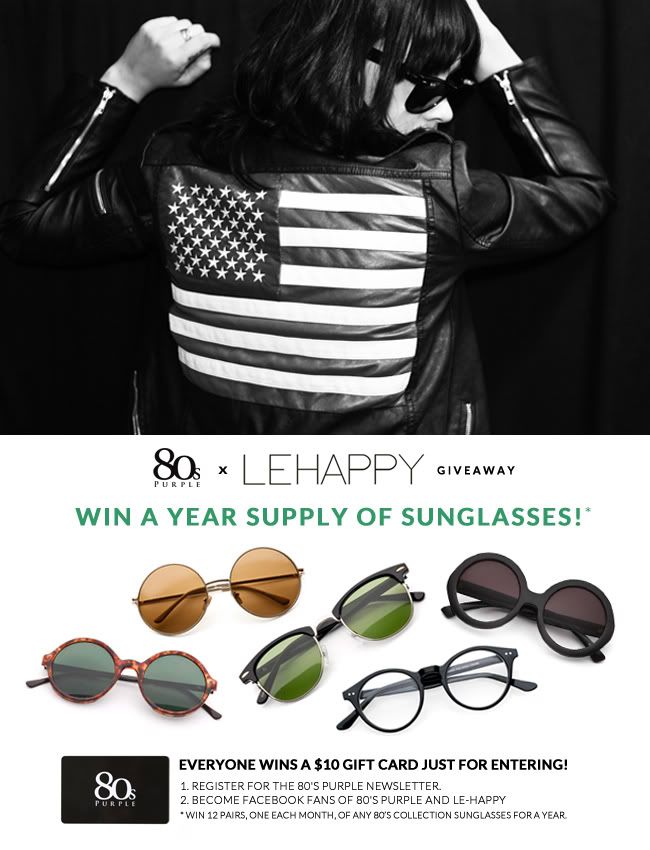 Hello there, so this is the best giveaway ever. I know ive been overloading you with giveaways but I just cant reject the really cool contests I have the chance to run for you. I mean, the prizes are mad good. If you get sick of giveaways let me know lol.
You can all enter for a chance to win a Year of Sunglasses from 80's Purple, 80's Collection. Also, just for entering the contest 80s Purple will be offering everyone $10 off anything in the store!
Here is how you can enter to win:
1. Register for 80's Purple Newsletter by entering your email here
2. Like  80's Purple & Le Happy on Facebook
3. Leave a comment with your email in this entry (the one used to register through 80's Purple)
Remember everyone wins $10 gift card for entering so remember to leave your contact info!
This contest will run until Tuesday, February 14th at midnight Pacific Time. yes, right on time for Valentines!
Good luck!
ps:  man I know ive been posting less outfits lately but I am totally making up to you, im finally settled down and ready to do so many things now! Im so freaking pumped up. I also will sell clothes via Etsy now, ebay is kind of restricting
—
Hola a todos. Este tiene que ser el mejor concurso que he hecho en el blog hasta ahora! Se que he estado posteando varios concursos pero no puedo resistirme y negar algunos que se que les va a encantar. Los premios son demasiado buenos. Si se cansan de ver tanto concurso hablen por favor jaja
En fin…
80s purple ha decidido ofrecerle a uno/a de mis lectores ganar lentes increíbles de su 80's Collection durante todo un año! Mas aun, todos/as los que participen van a tener $10 de descuento en cualquier cosa de su tienda!
Solo tienen que hacer estas tres cosas para participar:
1. Registrarse en  el Newsletter de 80s Purple dejando su email aca
2. Darle Like a 80s Purple y Le Happy en Facebook
3. Dejar un comentario con su email en esta entrada de blog (el que usaron para registrarse)
El concurso durara hasta el martes 14 de Febrero. Suerte!!!!!
pd: Yo se que he estado posteando pocos outfits ultimamente pero prometo ponerlos al dia! ya estoy instalada y ahora ando con todas las ganas de hacer mil cosas. Ah y ahora voy a vender mi ropa en Etsy .. Ebay es muy restrictivo.