October 16, 2012
Black Sanctuary.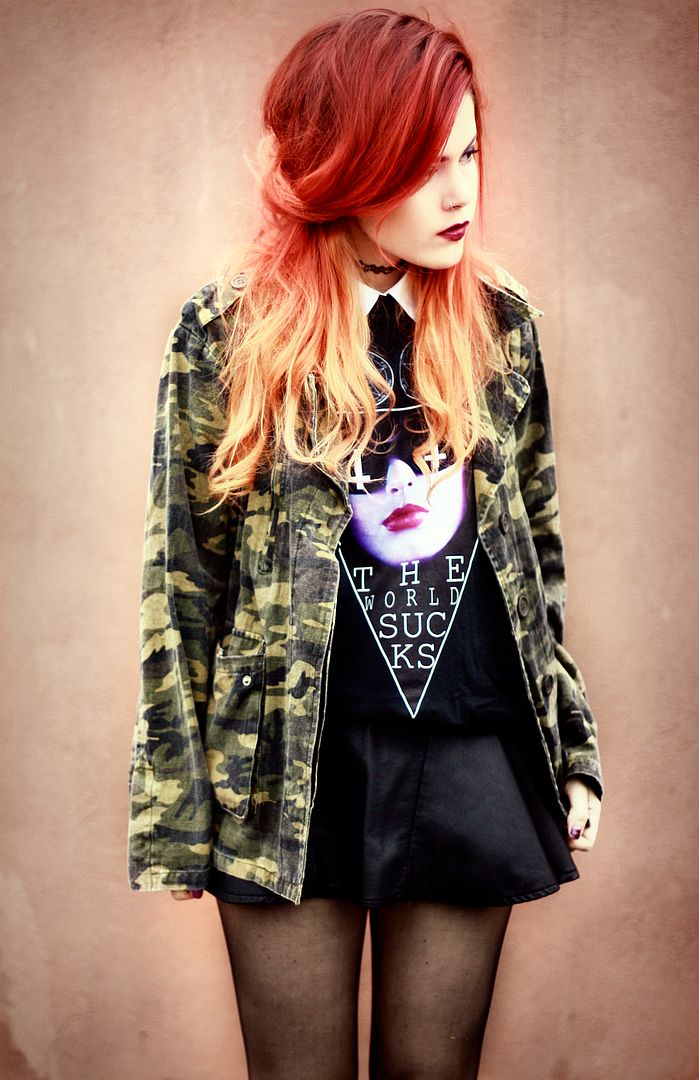 T-shirt ~ Black Sanctuary
Skirt  ~Romwe
Jacket ~ Chicwish
White blouse ~ Goodnight Macaroon
Yes the tips of my hair are way lighter. I made the ombre more evident I guess. I just bleached them more and they turned like this. Im thinking of lightening all of my hair. I know I always say that but never do it but this time Im seriously considering it.
Anyways, this outfit is really cute I think its one of my favorites.The t-shirt is from my new favorite t-shirt brand, Black Sanctuary, their designs are mind blowing. The skirt is one that I've been wearing a lot on my latest posts, its the perfect black skirt because the fabric is like leather which adds a lot more to the outfit.
Im so busy with school right now, I just realized all my projects and exams are this and next week. Spending so much time with my family was amazing but I definitely have to get back on track with school stuff. I hope everything goes well.
I would love to write more but im writing an essay, an artwork analysis and doing my math homework at the same time so I dont think its a good idea. I hope you all have a lovely week! I will be hosting a giveaway on my next post so keep tuned!
*
Las puntas de mi pelo estan mas claras, o bueno, la parte rubia esta mucho mas arriba. Simplemente me puse decolorante mas arriba y quedo asi. Estoy considerando aclararme un tono todo el pelo.. se que siempre digo eso pero jamas lo hago pero esta vez creo que si lo hare.
En fin, este outfit me encanta. El t-shirt es de una marca que descubir hace poco, Black Sanctuary.. venden t-shirts con disenos increibles que valen demasiado la pena ver. La falda la he usado bastante ultimamente, es la falda negra perfecta por que la tela de cuero hace que el outfit se vea mas completo.
Estoy demasiado ocupada con la universidad me acabo de dar cuenta que todos mis trabajos y examenes son esta y la proxima semana. La pase demasiado bien con mi familia pero creo que es hora de ponerme las pilas con las clases por que he estado de aqui para alla por todo NY, espero que me vaya bien nomas.. jaja.
Me encantaria escribir un poco mas pero ando escribiendo un ensayo, un análisis de arte y mi tarea de mate al mismo tiempo así que no creo que sea buena idea. Espero que tengan una linda semana, mañana posteare un concurso asi que esten atentos!