January 7, 2012
Caviar And Meths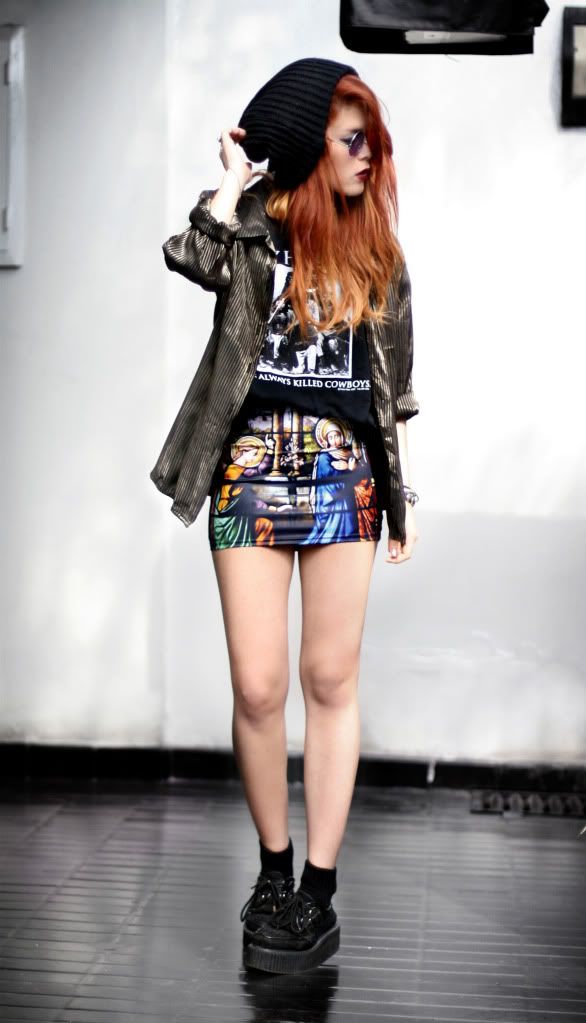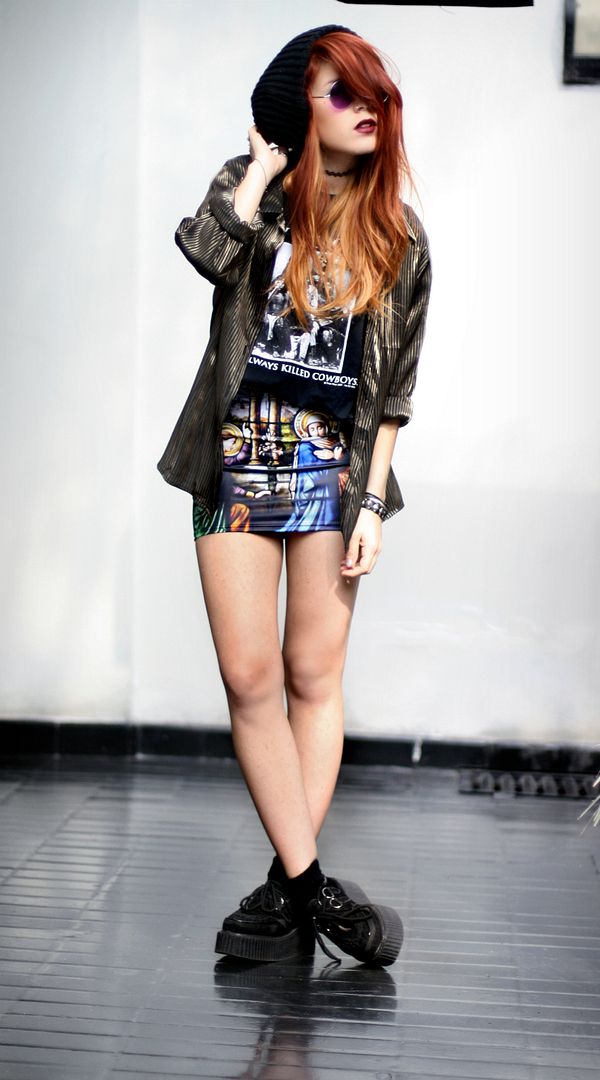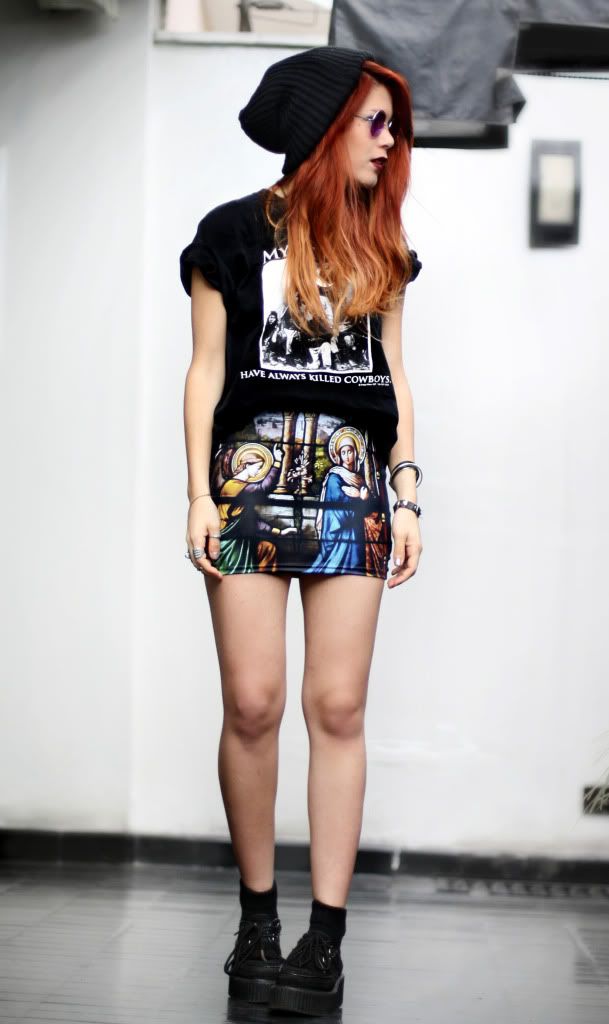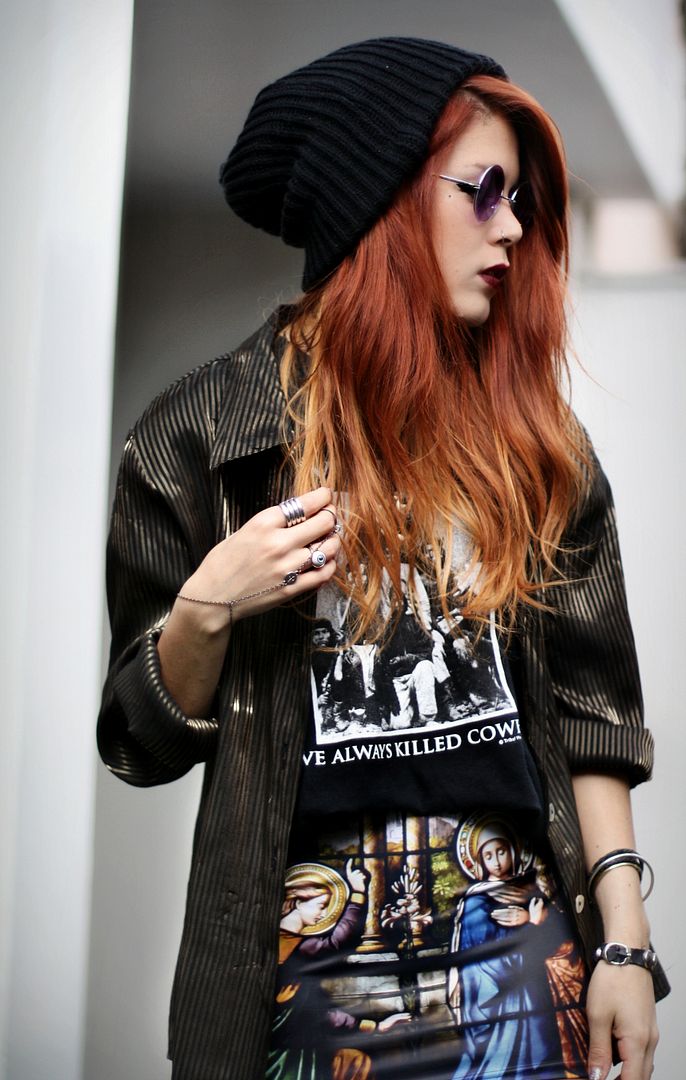 Sunglasses- 80s Purple, Shirt and tee – vintage, Skirt- Black Milk Clothing, Rings- Empty Casket
The blouse is one of the latest bargains I got here in Peru, love the fact that it can be combined with everything… just like the other glittery one I own. I really love pairing graphic tees with vintage ecclectic blouses. The skirt is from Black Milk, you gotta love it, I could wear it to death. The tee is another one I stole from my cousin for a couple of days, hes the t-shirt king, I dont know how he manages to find the right ones.
Yesterday I began watching How I met your mother, man my sister wanted to kill me when I started uncontrollably laughing at 3am. Im such a nerd.
This following week the last week in Peru, ill be back to Ny next saturday! I hope you are having an awesome weekend, i surely am enjoying the last days of summer.
Oh and by the way my blog is moving to another platform really soon, just letting you guys know.

Dont forget to enter the Romwe Giveaway HERE!
—

La blusa es una de las ultimas compras que he hecho aca en Lima, es de segunda. Lo que mas me llamo la atencion es que tiene una tela medio metalica, y como muchos sabran ultimamente ando obsesionada con todo lo que brilla , jaja. Siempre ando combinando blusas eclecticas con t-shirts estampados, sobretodo negros con blanco. La falda es de Black Milk y el t-shirt es de mi primo. No se como hace para conseguir unos tan increibles.
Esta semana que viene es la ultima que estare en Lima, viajo para NY el proximo sabado! Espero que esten pasando un buen fin de semana, yo trato de aprovechar los ultimos dias de verano que me quedan!
Ah, pronto mi blog se mudara a otra plataforma. Ya los mantendre al tanto.
No se olviden de participar en el concurso de Romwe AQUI!