February 9, 2013
CÉLIZE.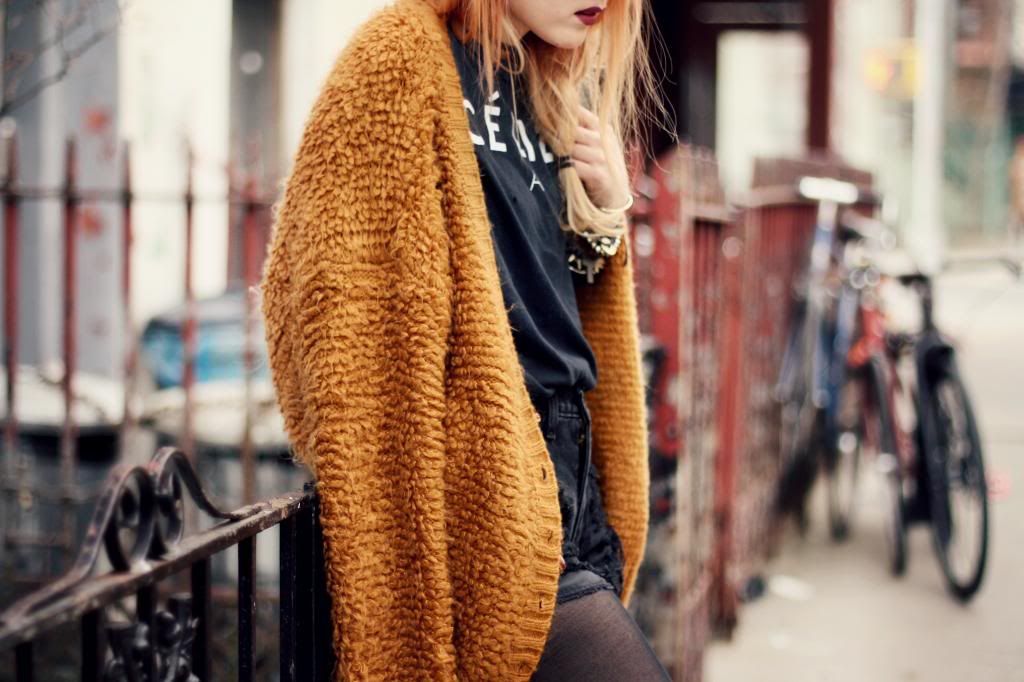 CÉlIZE Muscle tee- UNIF via Shop Wasteland
Jumper- Romwe
Shorts- Second hand via Melacine Moon
Boots- Modekungen
Hat- Choies
~
Never thought I wold pair this tank top with this oversized cardigan.  I actually had planned pairing it with my one of my  motorcycle jackets or a leather skirt & creepers. but well, I changed my mind once I fell in love with this mustard and dark blue combination. I  basically wore a monochromatic ensemble and added a touch of color (mustard) with the big jumper. That Romwe jumper has got to be one of the best and coziest  chunky jumper of them all. Seriously I always wear it at home to stay warm but also pair it with dressy outfits for  the city.  Its not in stock anymore but you can always check other cardigans they got which are very cute. The best part is that they have free shipping worldwide so you can order a huge amount of stuff and get it all at your door for free.
Anyways, I have a load of things to do today! Including lunch with family, a meeting and a couple of events tonight. I gotta get ready. Hope you all have a great saturday. More winter outfits to come!
~
Jamas pense que combinaria este top con este cardigan. Habia pensado usarlo con una chaqueta de cuero o con una falda de cuero y mis creepers, pero cambie de parecer cuando vi como combinaban este mostaza y el azul oscuro del top. Basicamente e un look monocromatico y le di un toque de color con la chompa oversized. Ese jumper de Romwe es uno de los mas comodos y abrigadores que he tenido hasta el momento. Siempre lo uso dentro de la casa para mantenerme abrigada pero tambien con looks medio elegantes . No esta disponible pero pueden ver otros cardigans en Romwe que estan bien lindos. Lo mejor es que tiene shipping gratis a todo el mundo, asi que pueden pedir varias cosas y les llegara a la puerta de su casa gratis.
En fin, tengo mil cosas que hacer hoy , incluyendo almuerzo familiar, una reunion y un par de eventos en la noche sobre los cuales quizas escriba en el blog. Tambien se vienen mas outfits de invierno 🙂 Que tengan un lindo dia.