May 13, 2013
Cheap Monday.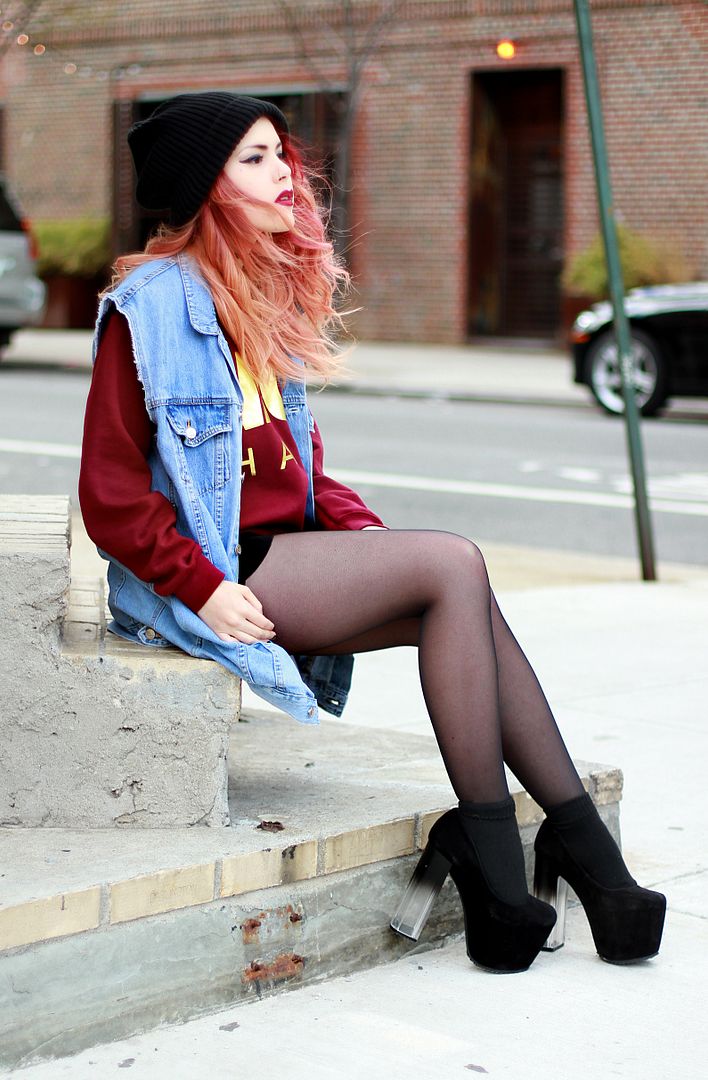 Nice Hair Sweatshirt- Alex and Chloe
Shorts- Lovers & Friends
Vest- Cheap Monday 
Beanie– Asos
Heels- Unif  via Miss Kl
I'm in love with this vest. It reminds me of my old outfits where I basically added a denim vest to make it more casual and complex. Here the first piece I wanted to wear was this sweatshirt from Alex and Chloe. I thought about adding a big motorcycle jacket but then realized a jeans vest did a better job in terms of colors.
It's monday but I'm surprised I am in such a good mood and so awake. I usually want to sleep and go nowhere (monday syndrome always gets me) but perhaps the fact that this is my last week of school and that i'm going to see my family in a few days has me unconsciously excited. Ah, just want this week to be over. Even though i'll be busy with school I got so many outfits I shot last week.  Lots of stuff to share with you including a giveaway so stay tuned!
  Also, I just can't thank you enough for the 50k Likes on FACEBOOK! this means so much to me… I honestly never thought I would make it.
~
Me fascina este chaleco de jean! Me recuerda a mis looks antiguos cuando simplemente añadia un chaleco de jean para darle un toque mas casual al look y mas layers. Aqui lo primero que quería usar era el sweatshirt de Alex and Chloe.. pensé combinarlo con una casaca de cuero negra pero luego probe el chaleco y la mezcla de colores me gusto mas.
Es lunes pero me sorprende estar de tan buen humor y despierta? Por lo general solo quiero dormir y hacer nada (sindrome de lunes, siempre) pero  quizas el hecho de que es mi ultima semana de universidad (no lo puedo creer) y que voy a ver a mi familia pronto me tiene inconscientemente emocionada. Ya quiero que acabe la semana. Aunque voy a estar ocupada con examenes tengo mucho looks que tome la semana pasada asi que esten atentos que verán muchos posts incluyendo un giveaway!
Tambien mil gracias por los 50 mil Likes en FACEBOOK! no lo podia creer en cuanto vi el numero, es algo que jamas imaginé lograr, son increíbles <3