January 24, 2011
Featured in SOFIS MODE!
I just received one of januarys Sofis Mode (Swedens biggest fashion magazine) issues with an article featuring me. Im so honoured. I was so thrilled when i got contacted by Annika to answer the interview. Thank you so much Annika and Sofis Mode! loved the article 🙂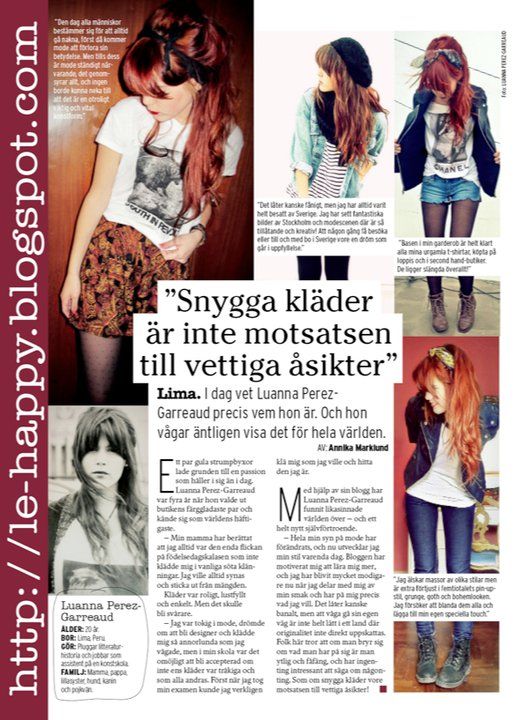 Im posting some questions I answered below, for the curious ones.
– What's your philosophy when it comes to fashion?
I think fashion is an expression of the personality. People should have the courage to wear unconventional stuff if they want to, things that please their eye but that they avoid just because it may be rejected by the society they live within. The most important thing in fashion is to feel happy with what you're wearing, feeling comfortable with your body and style.
– How – and when – did you decide to start your blog? What impact would you say that it's had on your life?
I've been wanting to start a blog a while ago, I wanted to create my own space, share my tastes on fashion and how do I apply it on my everyday outfits but I didn't had time and a camera. When I went to work to the USA for three months I decided to get one and when I got back in March I had plenty of spare time so I finally started my own place! It had helped me to meet people from all around the world; my perception of fashion had changed as now I'm trying to build up my style every single day. It motivates me to learn more about fashion and I also have gained a lot of courage on sharing my style and wearing what I like, specially coming from a country where originality isn't that much appreciated.
-How important is fashion and style to you? What is it about fashion that intrigues you?
The day human beings decide to live naked, that day fashion will lose its importance. Right now its everywhere and it's a vital kind of art. I'm intrigued by the way fashion operates in different countries. Its amazing how different cultures reflect different senses of style, and how in every culture there's amazing fashion sense.
– What's it like living in Peru? What would you say is the best/worst part about living there?
Living in Peru can be boring and fun at the same time. There are lots of places to visit, with astounding aesthetics and stories behind them, which are very inspirational. The worst part living here is the difficulty of creating something new and the negative people that want to bring you down.
– If you could change one thing about the fashion industry, what would it be?
I would say the extreme high prices some brands set. I think is ridiculous paying extreme amounts of money for some garments clothes, specially the simplest things
– What is your first/earliest fashion memory?
I remember when I was four years old, choosing a pair of yellow tights in a store, and feeling so fashionable. I just asked my mom about my fashion sense when I was little and she says that I was the only girl in the parties that wasn't wearing conventional cute dresses.
– Describe your wardrobe! (Not the place itself, but what's in it!)
It's a huge mess. My vintage t-shirts are spread all over. I own mostly vintage distressed tees, vintage patterned blouses, two toned plaid shirts, ripped denim shorts and vintage high-waisted patterned skirts.
– When you were a kid, what did you want to become when you grew up? Why?
I wanted to be a fashion designer. I've always been attracted to fashion! I thought fashion was only about designing. Now I realized that styling is what I like most.
– What are your plans – or dreams – for the future?
I would like to go to a fashion institute and learn about fashion merchandising. I'm seeking for institutes and thinking about living in New York.
– What does a regular day in your life look like?
Wake up, check my mails while having coffee, dress up, go to college. Then I return home, have lunch, post in my blog and relax with my boyfriend. I work three nights a week in an art direction school, helping with everything.
– What have you been studying?
Im studying Hispanic literature right now.
– How would you describe yourself to someone who knows nothing about you?
I can be shy at first but when I know you better I am very friendly and chatty. I would describe myself as spontaneous and caring at the same time.
– What would you say is the biggest misconception that people who don't know you have about you?
Some people may think I'm shallow just because of my appearance. It annoys me when people think that by being dressed up and groomed, you have nothing interesting to say and are a vain person.