October 28, 2012
How far we have fallen.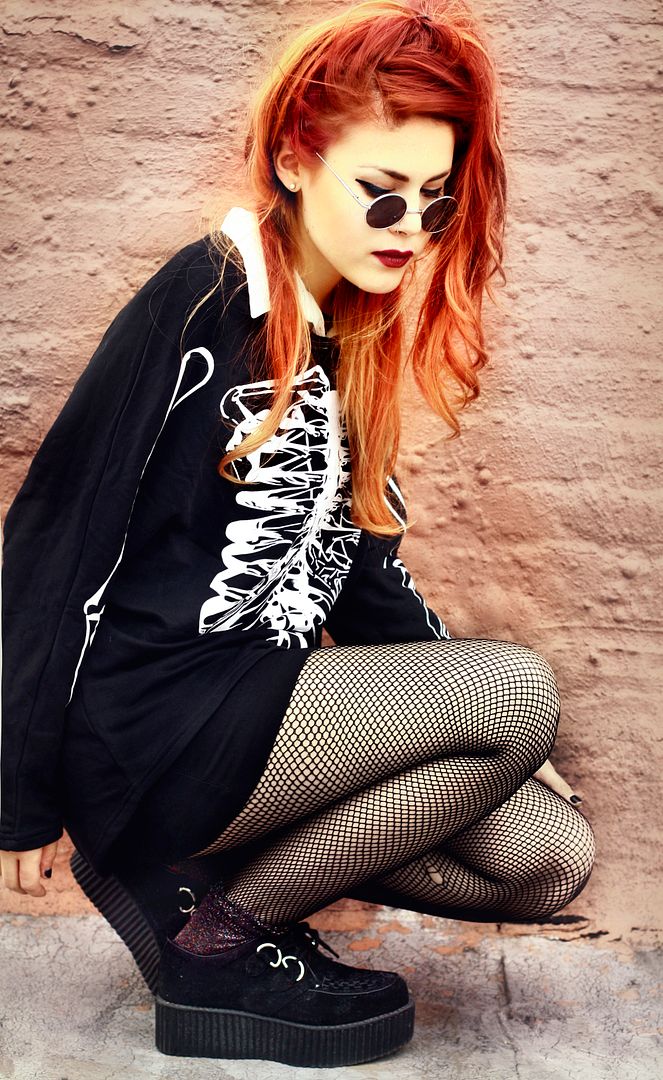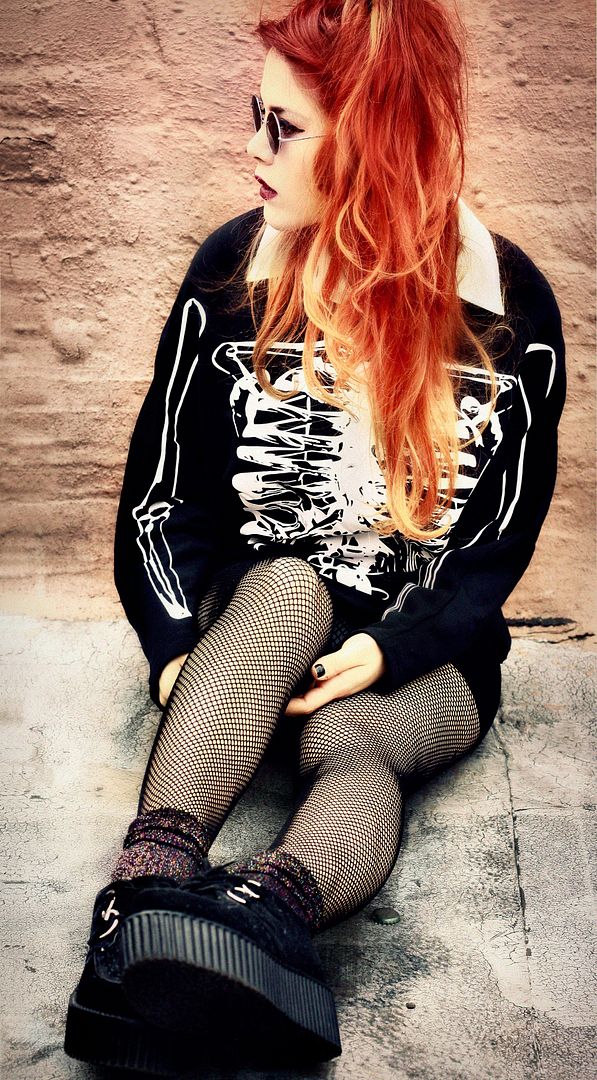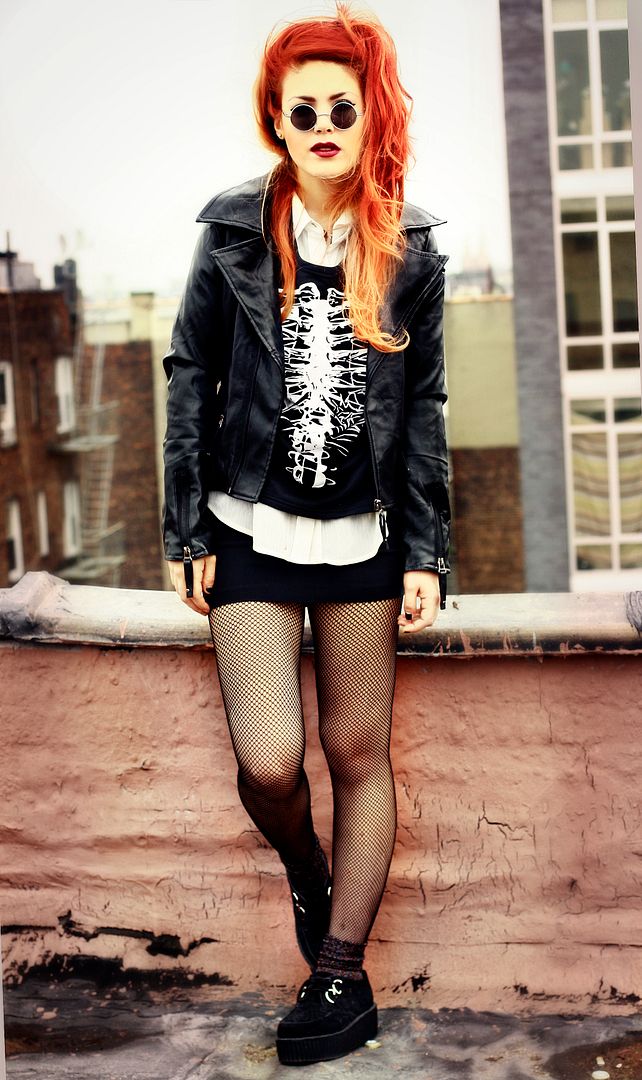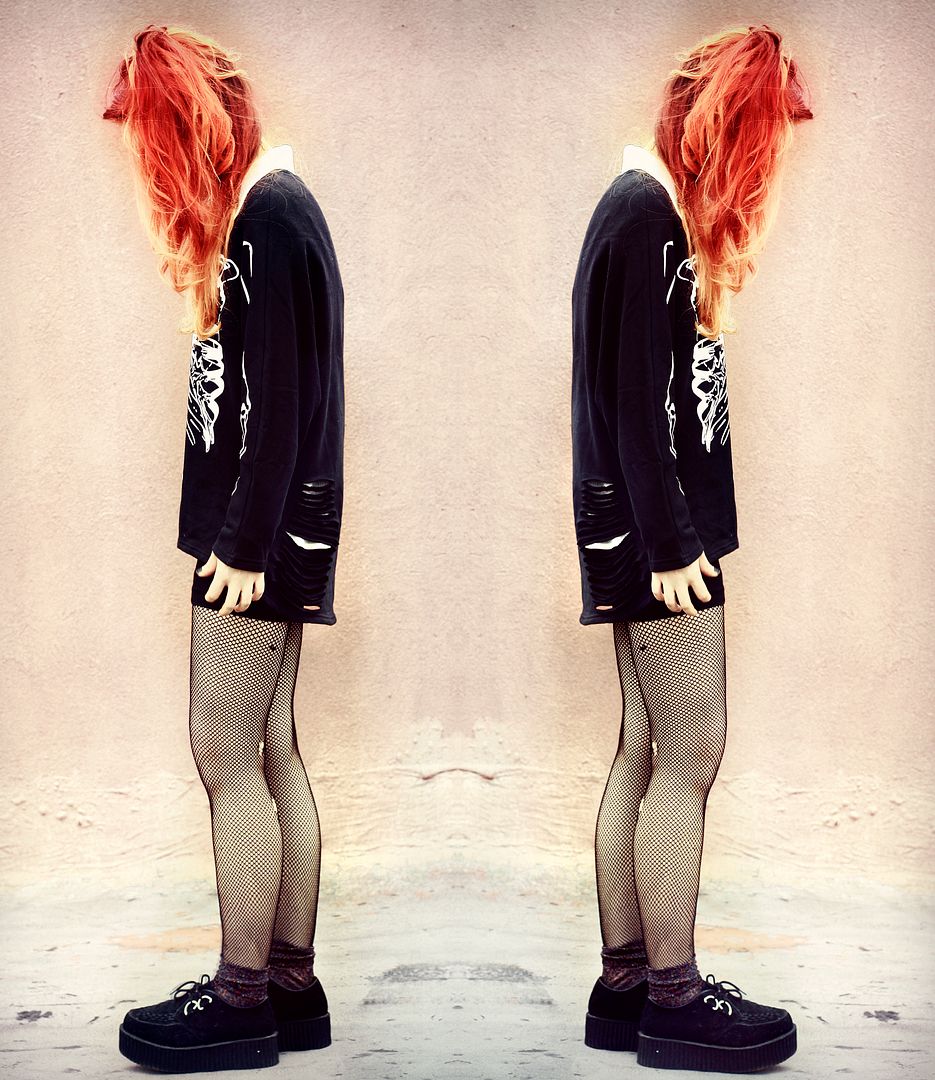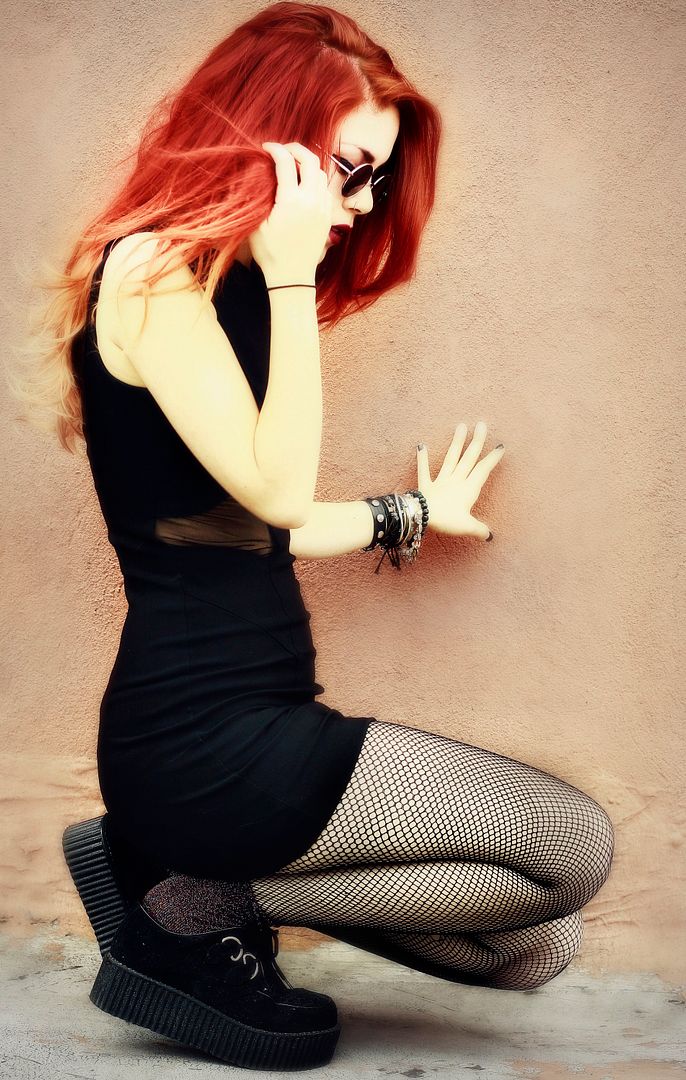 Little black dress~ Alainnbella
Sweatshirt ~ Romwe
Blouse~ Vintage
Creepers ~ Miracle Eye
Jacket ~ Clothingloves
Socks~ River Island
Sunnies ~ 80s Purple
ok I promise these are the last pictures im taking on the roof of my apt. I live in a fifth floor and have to ask my boyfriend (who is the photographer for this blog) to go downstairs to take pictures so I dont want to bother and we just go upstairs. I dont like this location that much but at least I can show you the outfit I was wearing the other day. I love this skull sweatshirt from Romwe, got it right on time for halloween but I am definitely going to wear it a lot this winter. I also want to wear it with dark red leggings or a black leather mini skirt and a glittery blouse. Here I wore the glitter on my socks.. they definitely added a nice touch of color to the outfit. Im going to wear them a lot when I channel black and white ensembles now.  On the last picture I was only wearing the black dress I had underneath, I love the mesh details on the ribs, and it really flatters the body because the fabric is kind of stiff yet not too thick.. one of the best little black dresses I've had. I got it from Alainnbella.  You can get 15% off any purchase there by adding the code "lehappy" when you check out!
I also wanted to let you know I already put more stuff on my store, check it out here. I added some cute vintage pieces  and other stuff you might like.
Anyways, Ive been walking so much today its insane. I went to a thrift store here in Brooklyn but I left with my hands empty . I took some pictures so expect a photo diary post soon! Been taking a lot of pictures randomly every other day. I also went to the market to buy some groceries and  couldnt understand why so many people was there buying canned food and stuff like that.. then I remembered the storm/hurricane thats supposedly going to happen on the east coast. I have no opinions whatsoever, last time they said there would be a hurricane it was a joke.. But you never know… Hope youre having a great weekend!
ps last day to enter Chicwish giveaway today!!!!
~*~
Les prometo que estas son las ultimas fotos que tomo en el techo de mi apartamento.. vivo en un quinto piso y  es mucho mas facil subir a tomar fotos.. sobretodo por que mi chico (el fotografo de este blog) tiene que bajar conmigo asi que prefiero no hacerlo jaja. No me gusta mucho esta locacion pero al menos pueden ver el look que use el otro dia. Me gusta un monton este sweatshirt de Romwe, lo conseguí justo en epocas de halloween pero de hecho lo voy a usar bastante durante el invierno. Ya lo quiero usar con unas leggings rojas oscuras o una mini falda de cuero negra y una blusa como escarchada. Aqui use el brillo en las medias.. le dan color al look. Las voy a usar muchisimo cuando me ponga conjuntos en blanco y negro. En la ultima foto pueden ver el vestidito negro que usaba abajo. Me encanta la transparencia que tiene, le da una silueta bonita al cuerpo por que la tela es medio dura pero delgada a la vez.. creo que es uno de los mejores vestidos negros que he tenido. Es de Alainnbella, pueden usar el codigo "lehappy" si compran algo ahi para tener 15% de descuento!
Les cuento que ya puse mas cosas en la tienda de mi blog. Estoy vendiendo varias piezas vintage bien lindas. Chequeenla aqui.
En fin, he caminado tanto hoy estoy muerta. Fui a una tienda de segunda en Brooklyn pero me fui con las manos vacías . no se por que no había nada que me llamo la atencion. He tomado varias fotos así que probablemente haga un post con fotos random de los últimos dias.  Tambien fui al super a comprar comida y me sorprendi con la cantidad de gente que había comprando comida enlatada… de ahi me acorde del huracan/tormenta que se supone que va a haber acá y en la costa pasado mañana  No tengo idea como sera, solo me acuerdo que la ultima vez que hubo alerta de huracan no paso mucho por aca asi que espero que sea lo mismo.. pero nunca sabes. Espero que tengan un lindo fin de semana.
pd hoy es el ultimo dia para participar en el concurso de Chicwish!!