January 31, 2013
Life's A Bitch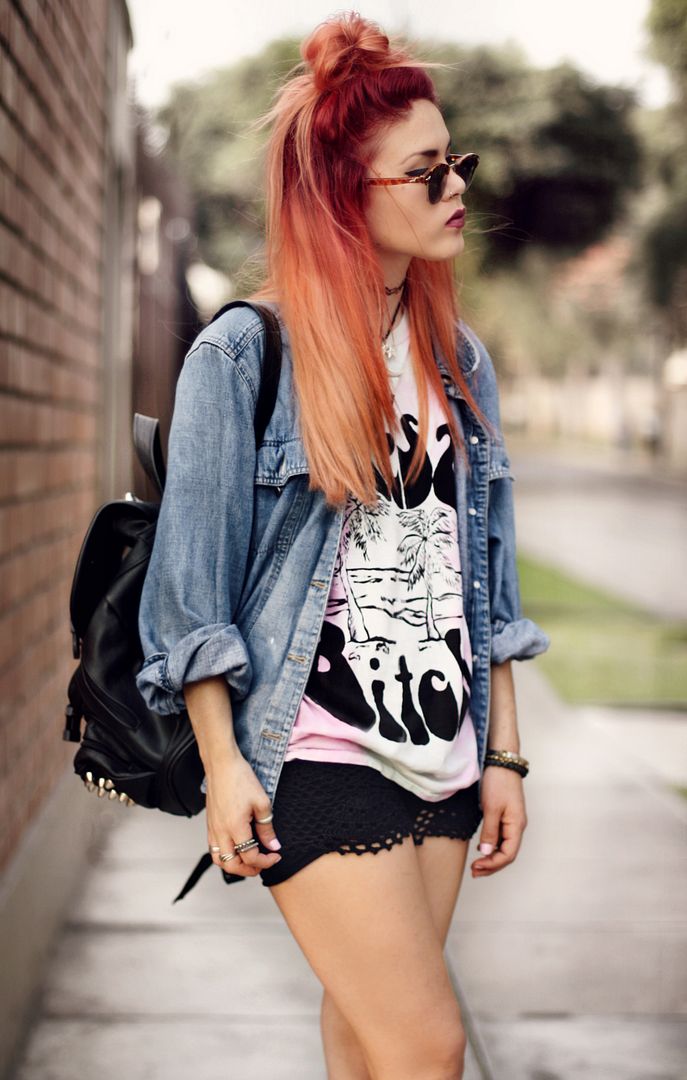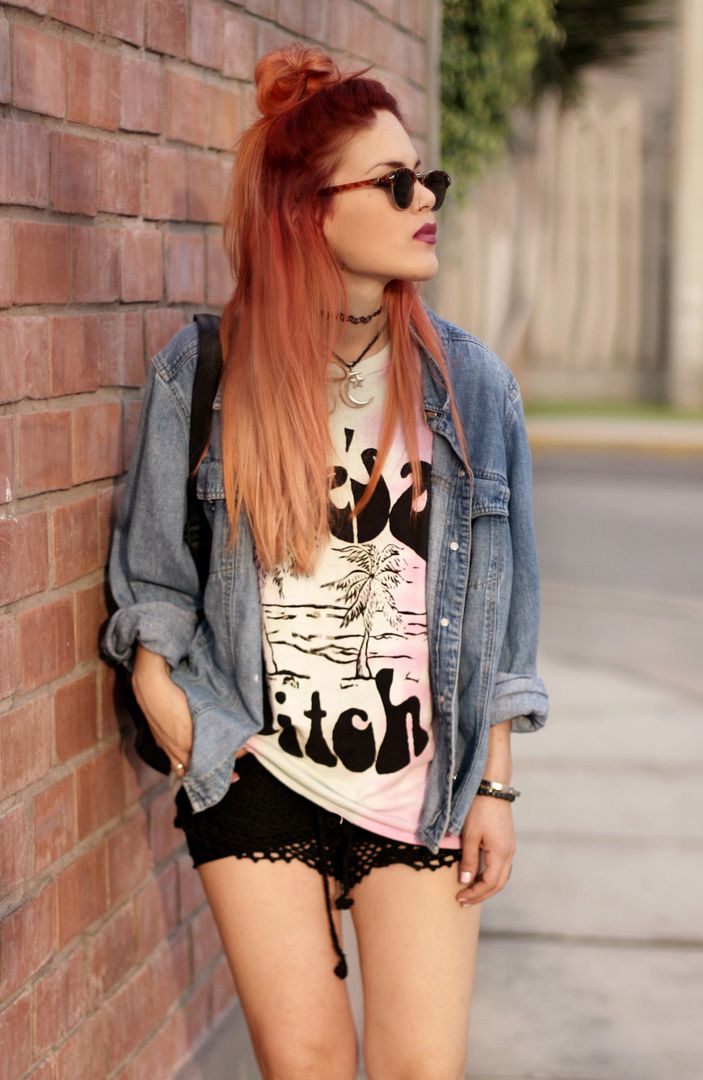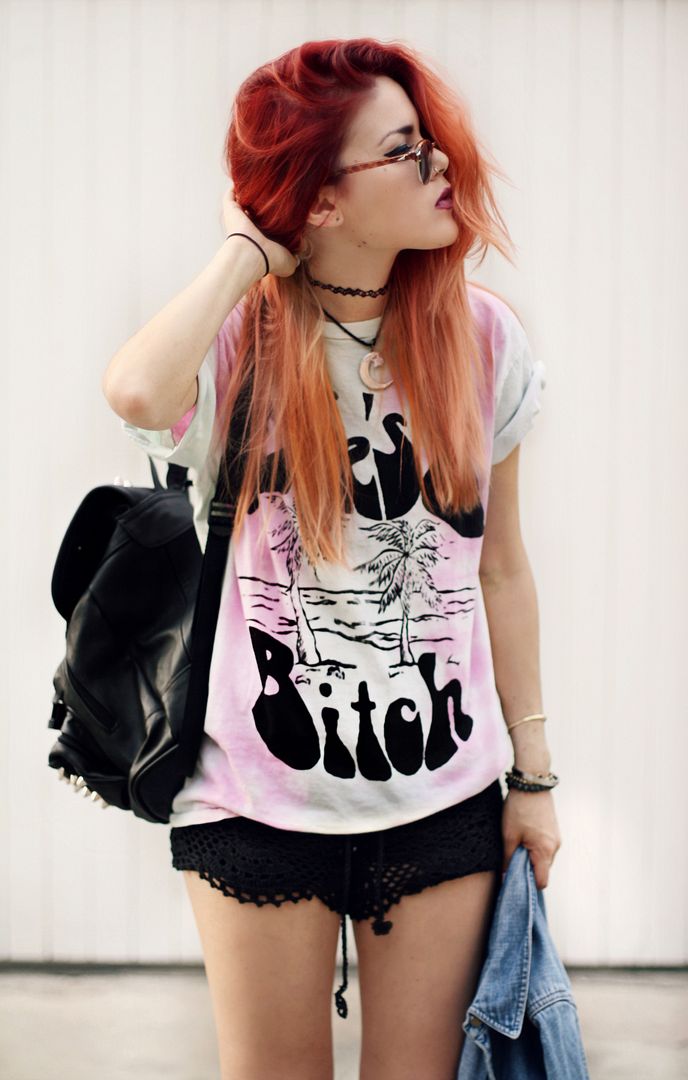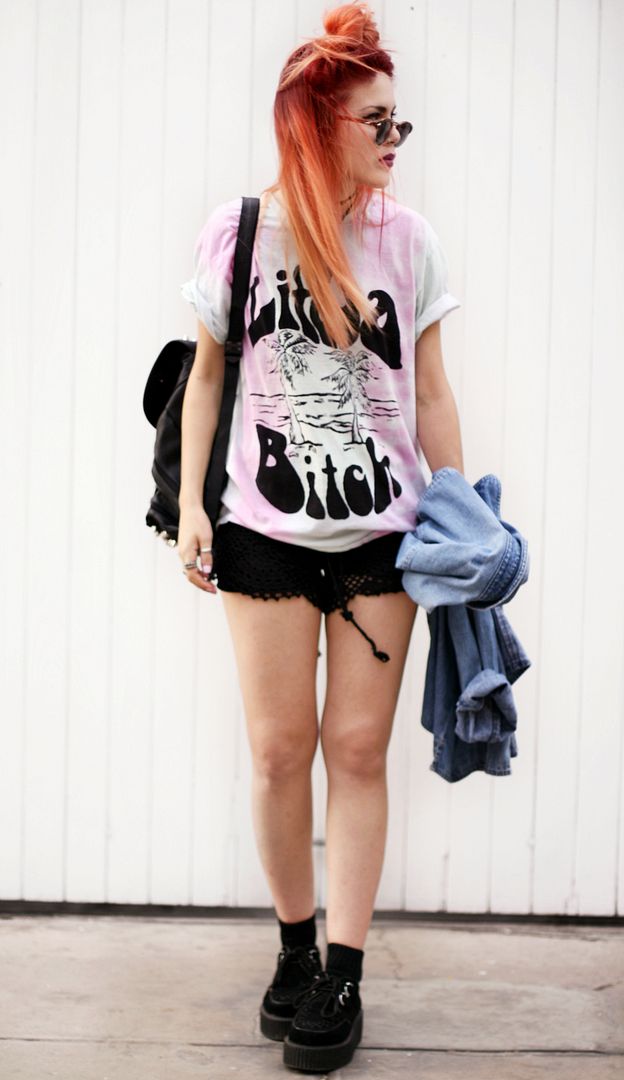 Shorts-Chicwish
T-shirt – Heavy Metal Boyfriend
Creepers- Romwe (old)
Last outfit I wore in Peru. It was pretty hot so I just kept it simple with a t-shirt and these perfect pair of crochet shorts from Chicwish (which has free shipping worldwide). The jacket ended up in my hands but  it was quite useful during the night since it got chilly. I didnt wanted to post this look here but I remembered sometimes you guys like to see my simple looks / when I am in the mood for slouchy comfy stuff. I proper like this outfit though, I absolutely love the pastel tie dye on the t-shirt.  Sometimes a cool t-shirt is good enough for a complete outfit. I also wore this with dark denim cut offs, fishnet tights and a huge messy bun to go out one night while I was there. And if you're wondering, the jacket is my cousins, I told you, hes the king of second hand clothes. I need him to live here and be my thrifting companion, he's so good at it.  Oh and by the way, I didn't plan the nailpolish, but it goes perfectly with the outfit huh? I actually ran out of nice nailpolishes and just mixed them all together and this was the result.
I wanted to thank you so much for supporting me on the Fashiolista x  Shopbop contest with your vote.  Theres only five more days left  and it would mean the world to me if I get to go to London (my favorite city) and attend the Brit Awards. Its like something I would have never imagined could happen and I can make it with your help. Remember you can win $25000 to spend in Shopbop if you vote.
Vote here <3!
I have a few outfits I already took pictures of from NY so keep tuned to see winter looks from now on!  thanks for following you crazy people
~
Ultimo look que use en Peru. Hacia bastante calor  como para un t-shirt con estos shorts de crochet bellos de Chicwish (el costo de envio es gratis a todo el mundo). Quizas se pregunten si aguante las creepers y la verdad que ya me acostumbre y odio las sandalias un poco. Obviamente que la casaca termino en mis manos, pero me fue bien util en la noche ya que el clima enfrio un poco. No habia planeado postear el look pero luego recorde que aveces les gusta ver este tipo de looks simples!  Aunque en realidad si me gusta bastante este conjunto, el t-shirt me fascina por lo colores pasteles. A veces un buen t-shirt grafico puede hacer el look. Tambien lo he usado con un par de shorts de jean negros con panties de coco/maya de red (o como la llamen) y el pelo recogido y un poco desordenado. Por si se preguntan la chaqueta de jean es de mi primo, nuevamente. Les dije, es un genio con las cosas de segunda mano, solo quiero que viva aca para que me acompanie en mis busquedas de ropa vintage. Por cierto el esmalte no fue nada planeado! No tenia muchos en Lima asi que mezcle varios y este fue el resultado, coincidentemente perfecto para este look.
En fin, queria agradecerles muchísimo por su apoyo en el concurso de Shopbop y Fashiolista si han votado por mi! Solo quedan cinco dias y no podria estar mas feliz si quienes no han votado me ayudan tambien.Recuerden que pueden ganar $2500 en Shopbop si votan! Ir a Londres (siempre ha sido mi suenio ir) y asistir a los Brit Awards suena como una experiencia que jamas me imagine que lograria, y con su ayuda podria hacerlo. Voten aqui  <3!
Ya fotografie algunos outfits que he usado en NY  así que esten al tanto para ver looks invernales. Mil gracias por seguir mi blog 🙂