December 7, 2012
Miss KL Giveaway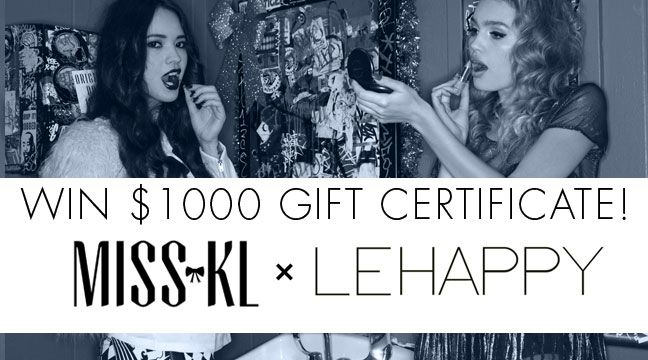 Hi everyone! Miss KL the womens only website of Karmaloop and Le Happy teamed up to host one of the best giveaways I have ever posted ever.  A 1000dollar voucher. I really am very selective with my giveaways because I dont want to clog this blog with them!  But I couldnt resist to host this one for you to win 🙂  Giving you the chance to win stuff from the best brands ever is  really exciting. And well, this is honestly the best giveaways ever because Miss KL stocks Jeffrey Campbell, UNIF clothing, Dr Martens, TUK, One Teaspoon, Style Stalker , Cheap Monday, Motel, Wildfox, etcetc. So you can actually win a 1000 voucher and spend it in all the brands mentioned.
You only have to:
1. Like My Facebok Page
2. Click on the image above or here and fill your info on the link you get directed
3. Leave a comment with your  name and email!
GOOD LUCK! Contest ends December 31st.
~
Miss KL, el website de Karmaloop me ofrecio postear el mejor concurso que he tenido hasta el momento Asi que no pude decir no. Uno/a de ustedes puede ganar un voucher de mil dolares! Para ser sincera, soy muy selectiva con los giveaways que posteo por que no quiero que el blog este lleno de ellos pero tambien trato de tomar los mejoes por que obviamente quiero que ustedes se ganen con mis marcas favoritas 🙂 Este concurso no era excepcion, Miss KL tiene cosas de UNIF, Dr Martens, TUK, One Teaspoon,  Style Stalker, Cheap Monday, Motel, Wildfox, etcetc. Asi pueden ganar mil dolares de esas marcas!
Solo tieenn que:
1. Darle like a mi pagina de Facebook
2. Darle click a la imagen arriba  o aca y llenar el formulario con tus dato
3. Dejar un comentario con tu nombre y email.
Suerte! El concurso dura hasta el 31 de Diciembre!