December 5, 2012
Outfit Wish List.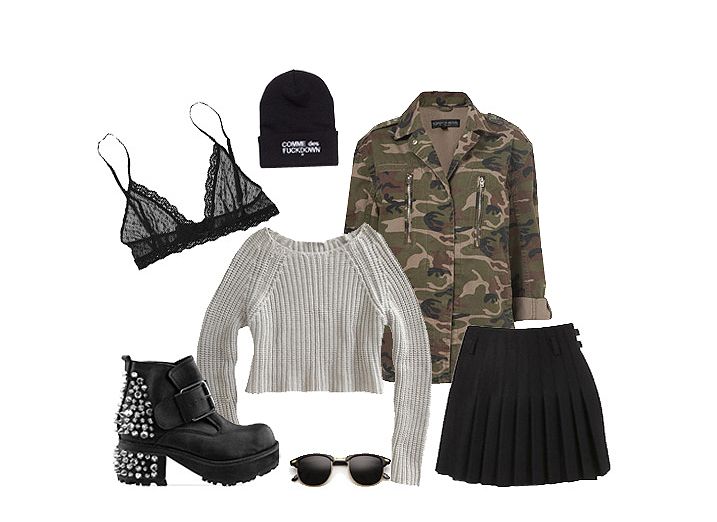 1. Topshop Jacket, 2. Jeffrey Campbell Ving Spike Boots, 3. 80s Purple Sunglasses, 4. Topshop Skirt, 5.  Alexander Wang Pullover, 5. Journelle Bra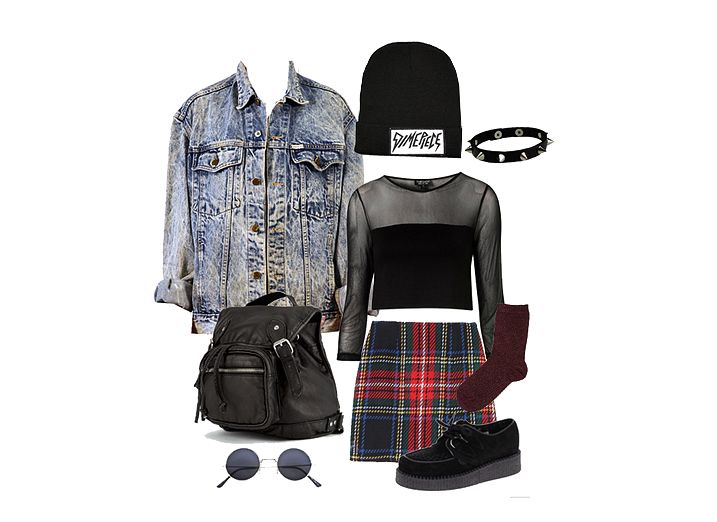 1. Saltwater Gypsy acid wash jacket, 2. Topshop mesh top, 3. Dimepiece Beanie, 4. Opening Ceremony Tartan skirt (similar here), 5. Tillys Backpack, 6. Underground Creepers via ASOS, 7. 80's Purple Lennon Sunglasses, 8. Ebay Choker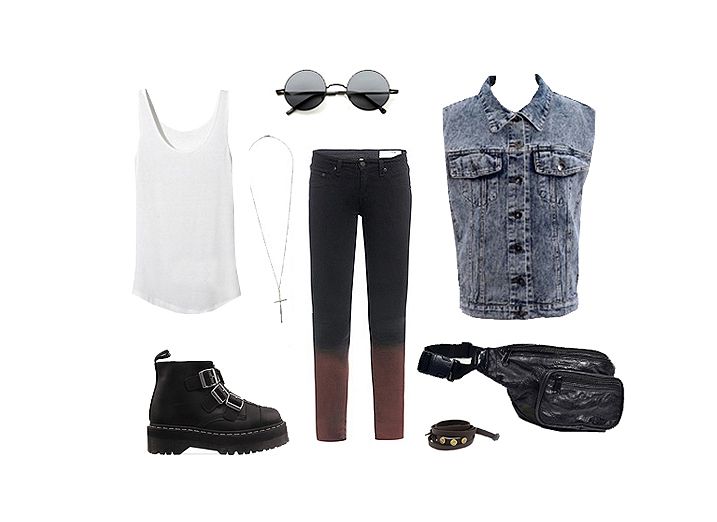 1. Romwe Basic Top, 2. Agyness Deyn x Dr. Martens Boots, 3. Romwe acid wash vest,  4. Saltwater Gypsy Fanny pack, 5. 80's Purple Sunglasses, 6. Rag & Bone Jeans,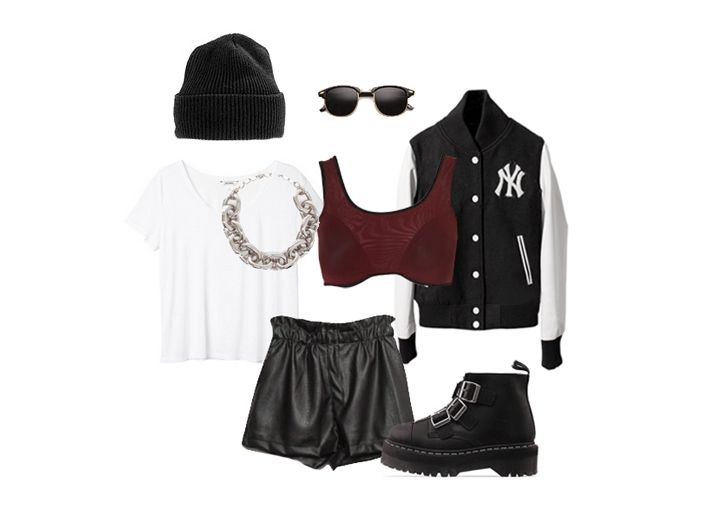 1. Burton Black Beanie, 2. Romwe Basic T-shirt, 3. Romwe Shorts, 4. Romwe Baseball Jacket, 5. Agyness Deyn x Dr. Martens Boots, 6. Silver Chunky Link Necklace, 7. 80's Purple Clubmaster Sunglasses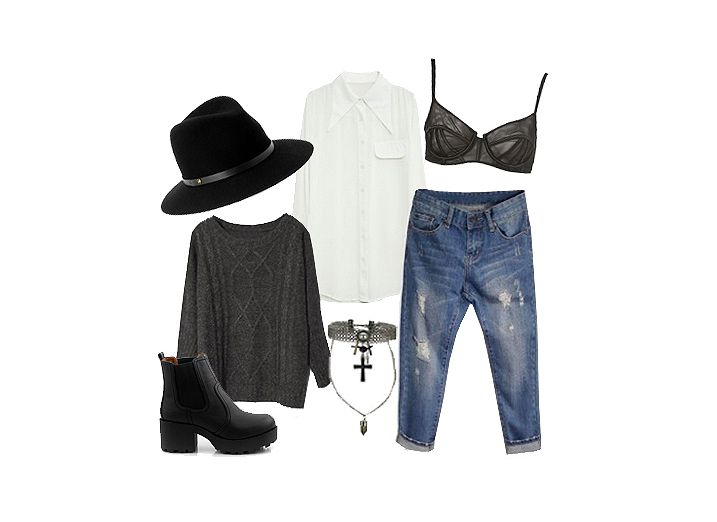 1. Black Fedora, 2. Romwe Jumper, 3.Romwe Blouse, 4. Topshop Bra, 5. Romwe Pants, 6. Topshop Choker Necklace, 7. Scorett.se Boots, similar to Jeffrey Campbell Hanger Boots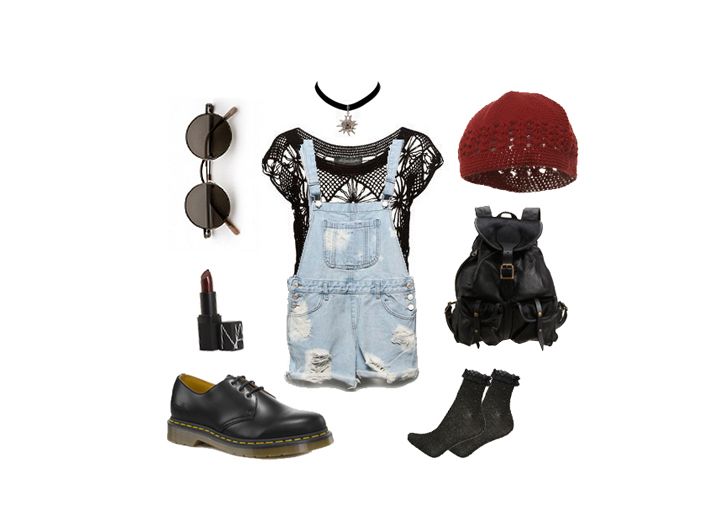 1. 80's Purple Lennon Sunglasses, 2. Modekungen Overalls, 3. Dr Martens Shoes, 4. Vintage red beanie, 5. Jas MB Bomber Backpack, 6. Nars Lipstick, 7. All Saints Crochet Top, 8. ASOS lace socks.
~
These are basically the outfits I would like to be wearing right now. I'm in love with all these pieces at the moment, this is like a wishlist put together in outfit sets. Only if the weather permitted and if I had a little exta cash in my hands. But well, these dream outfits can (kind of) be reproduced by experimenting with the stuff I already have! I hope you like them. I thought they looked much more nitid but the images on my blog tend to get larger.
Anyways, the three winners of the She Inside giveaway are: Janine Degroot, Isabel Chong and Victoria (polkamusic). Congratulations!!! for all of you who entered dont worry because I am hosting another amazing contest soon, keep your eyes open 🙂
~
Esto es basicamente lo que me encantaria estar usando en este preciso momento.  Amo todas las prendas que ven arriba. Es como un wishlist armado en sets de outfits. Si tan solo el clima fuese un poco mas amigable y si pudiese comprar todo eso! Algunas prendas son super caras, pero no hace dano soniar, jaja. Espero que les gusten los looks. Todos son reproducibles con un poco de creatividad y prendas de segunda a la mano. Pense que las imagenes se verian mas nitidas pero mi blog las agranda un poco.
En fin, las ganadoras del concurso de She Inside son: Janine Degroot, Isabel Chong y Victoria (polkamusic)! Felicidades! Para todos los que participaron, no pierdan esperanzas por que estare posteando concursos mas seguido! que tengan un lindo dia