December 6, 2012
Retro Active.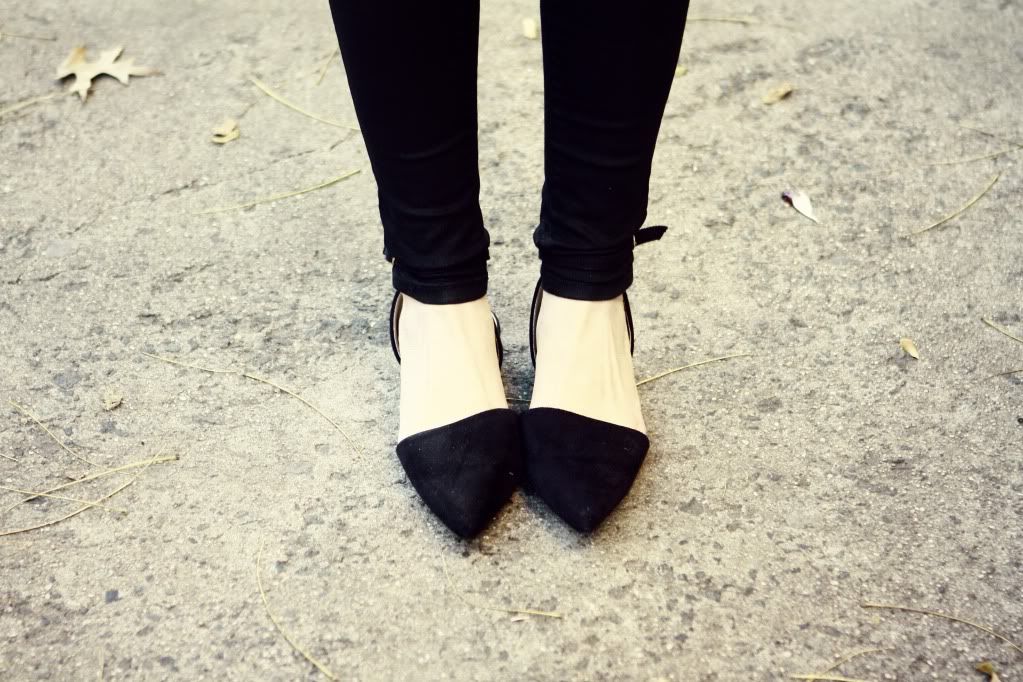 Jumper ~ Romwe
T-shirt ~ Black Pyramid
Suede  Ankle Strap Shoes ~ Goodnight Macaroon
Sunglasses ~ Vintage
This jumper + Def Leppard t-shirt combo is my favorite for cozy days. If you follow me on instagram (luanna90) you might probably seen this two paired together already. I really like this Romwe jumper, its definitely a fall essential when I want to skip the all black outfits I always wear. The sueded pointy shoes are my take on ballerinas. Got them from Goodnight Macaroon. I actually dont like ballerinas at all but the pointy tip on these Mary Janes meet ballerinas makes them look rad. I love to pair them with pants and leggings. I think I might also wear them with maxi skirts on summer! Taking them to Peru with me on january ( Im going for vacations and its summer over there) . By the way, check Black Pyramid for more awesome vintage graphic t-shirt. Like real vintage band tees.
Anyways, Im half asleep right now. Yesterday I spent all night writing an essay, slept barely 2 hours and went to class super early. I dont know what else to do to wake myself up, this third coffee is having no effect on me at all. I still have to do a couple more things but the good thing is that tonight im going to see Exitmusic live with my boyfriend.  Treating myself after long study and work days. Hope you have a nice end of the week!
~
Este jumper + t-shirt de Def Leppard es mi  combinacion favorita. Si me siguen en instagram (luanna90) probablemente ya la han visto. Esta vez lo use con una camisa blanca debajo lo que hace que se vea un poco mas vestidor. El jumper de Romwe me encanta para usar en dias frios de otonio cuando quiero variar un poco de los looks todos negros de siempre. Los zapatos son mi version de ballerinas . En realidad no me gustan las ballerinas en lo minimo pero la punta de estos hace que los ame. Planeo usarlas con pantalones, leggings y hasta con maxi faldas en verano asi que me las llevare a Peru cuando vaya de vacaciones en enero (es verano ahi). Por cierto chequeen Black Pyramid si buscan t-shirts vintage, la mayoria de bandas .
En fin, estoy medio dormida en este instante. Realmente nunca habia terminado tan cansada. Ayer me desvele escribiendo un ensayo y tenia que entregarlo hoy tempranisimo. No se que mas hacer para despertarme aparte de los tres cafes que ya me he tomado (y son las 12 recien). Al menos en la noche tengo un concierto (de Exitmusic) y no puedo estar mas feliz. Hay que engreirse a uno mismo despues de dias pesados.
Que tengan un lindo dia!