November 10, 2012
We're burning the pages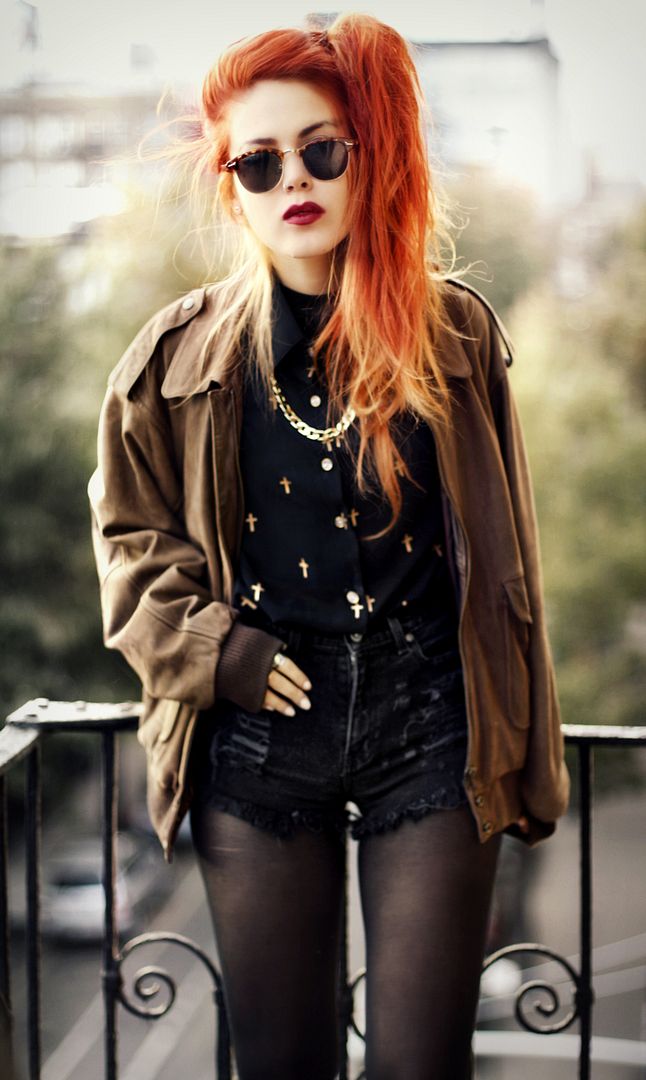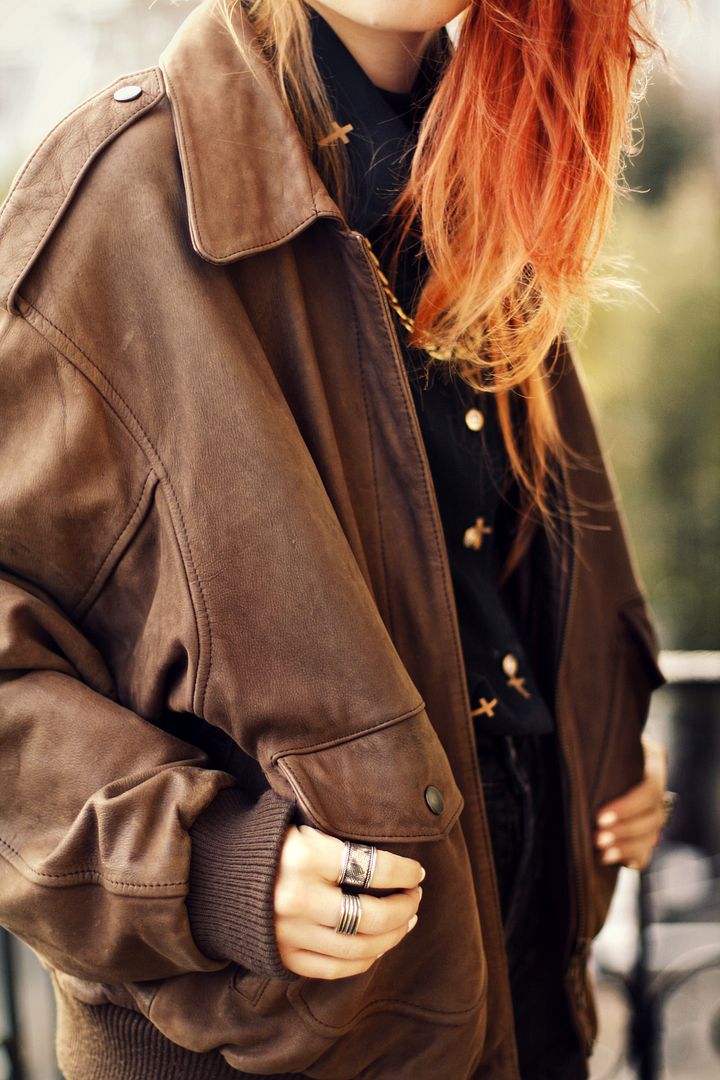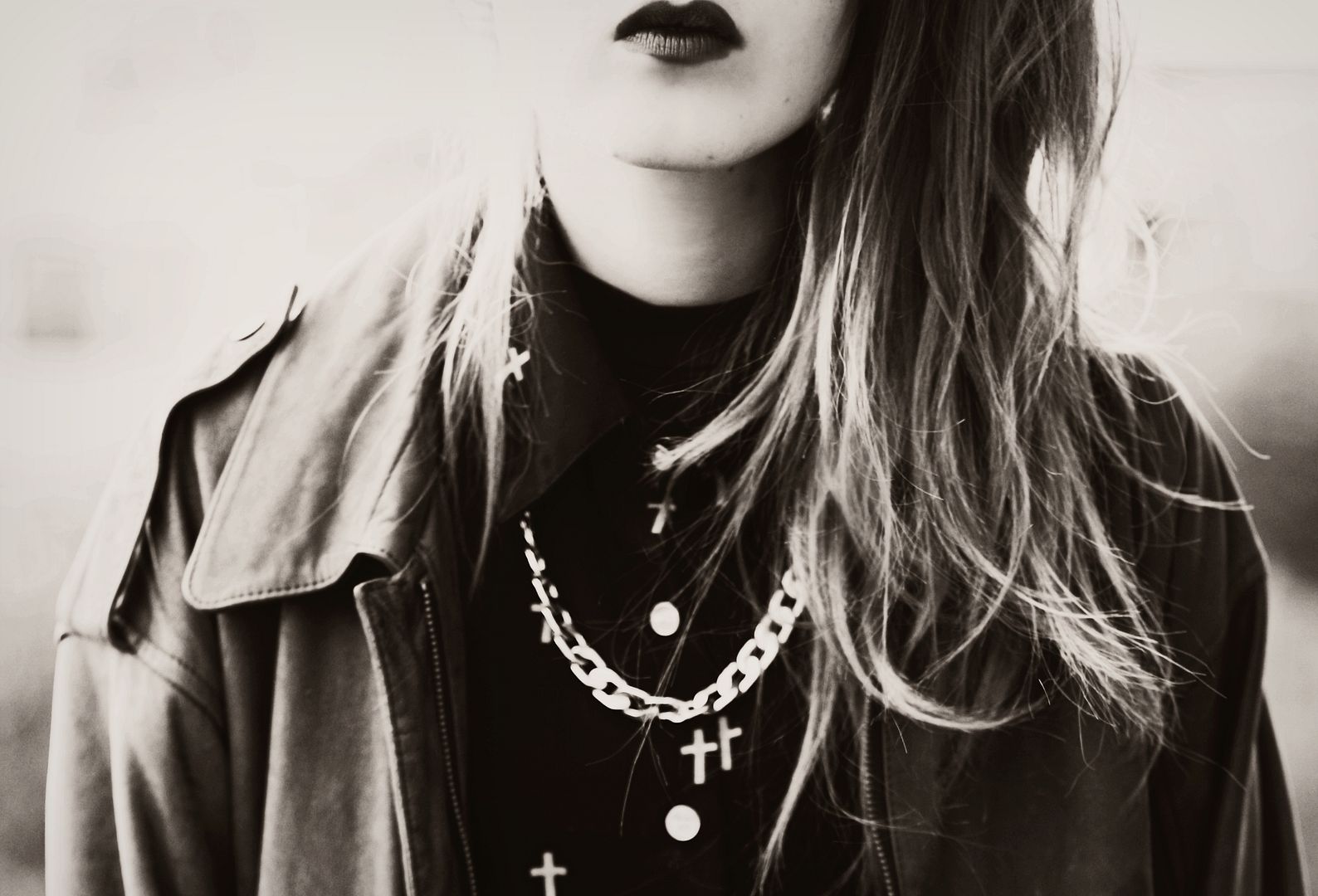 Jacket  & Sunglasses~ Vintage
Blouse ~ She Inside
Gold chain link necklace ~ And That
Ring ~ Vanessa Mooney
Wow I never thought you would like my random posts so much haha, Im really happy that you enjoyed them! I will take more random pictures often to post them over here.
I had to show you my new oversized bomber jacket.. been wearing it with almost everything that goes with this old vintage brown shade, specially with black outfits like this one. I love that I can pair it with gold or silver jewelry. Jewelry can totally direct your outfit to totally different tyles. When I wear it with silver jewelry it looks more bohemian, and if I wear golden chunky necklaces like this one it gets this hip hop vibe. The blouse is another item I've been wearing a lot lately. Its from She Inside, of course. They always have the best stuff. A lot of you ask me about where I get my rings . Well most of them are from vintage markets in Peru because Im not a big fan of the jewelry they sell over here.. theres only a few good jewelry stores that manage to have that real hippie vibe on their pieces so I usually wear the exact same ones every day. Well finally I could get new ones which are totally that style. This new ring from Vanessa Mooney will be one of the ones I wear the most now.
Anyways, Ive been like crazy these past days. Im in the middle of a lot of projects with different people and im definitely going through a good time right now. I finally can relax though, plan to get some beers and go to a bar, and tomorrow go to a concert (Earth to be more precise). Im super excited.
Hope you all have a great weekend! Keep tuned cause I have a lot to show you, I dont know why all of a sudden I got inspired to put too much stuff together.
~*~
Nunca pense que les gustaria tanto los posts anteriores! Gracias por sus comentarios, de hecho planeo tomar mas fotos random para postear por aca.
Tenia que postear esta casaca de aviador tarde o temprano. Es mi ultima adquisicion de segunda mano y solo la uso todo el dia, sobretodo con conjuntos negros en realidad. Me gusta mucho el tono de marron medio vintage que tiene, se ve super bien con joyas doradas y plateadas. Cuando la uso con plateado se ve mas bohemio el look, y aca que lo use con dorado se ve como tiene una onda un poco mas tipo hip hop? Aun no se como describirlo. La combine con esta blusa por que definitivamente queria usarla con algo negro de este material, pero las cruces  en la blusa hacen que se vea mucho mejor. Obviamente que la blusa es de She Inside, tienen cosas bellas y tienen shipping gratis a todo el mundo por siacaso.
En fin, he estado como loca toda la semana, me cuesta creer como me he partido en diez todos los dias para hacer tanto. Pero estoy super feliz por que estoy metida en un par de proyectos interesantes. Al fin puedo relajar hoy que es viernes, probablemente unas cerveza y maniana un concierto (de Earth). Estoy emocionada la verdad.
Espero que tengan un lindo fin de semana todo/as. Tengo mil looks en la cabeza que ya quiero mostrarles!